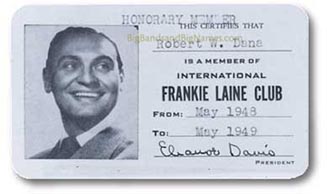 Dead Beat remembers being in The Latin Quarter, October 14 1955.

Out comes Mr. Rhythm.

"Let's get going, then if you want to flip, it's all right with me," says Mr. Rhythm.

Dead Beat nods to himself and acknowledges that Frankie Laine has earned his sobriquet.

He leans slightly forward as he sings, as if he were about to battle a stiff wind in Kansas. His hands are always busy, often raised, with the fervor of a revivalist. D. B. will say he's. Mr. Rhythm. And a consummate showman, too, as he introduces the numbers that have meant much to his career.

Because it always was a lucky number for him since he first sang it in 1949, he does "Lucky Old Sun."Next comes "Your Cheating Heart," by the late Hank Williams, on whose life a movie will be based; then, nearest and dearest to Frankie's heart, "You're My Desire," then "Jezebel."

By now, as Frankie points out, the audience is really flying, so he introduces his accompanist, Al Lerner, the Cleveland flash, before rushing into his version of "Cry of the Wild Goose."

"Believe" and "Jealousy" wind up a program that should satisfy the singer's fans and win new ones.

Turn the house lights down.

Frankie Laine has left the building.