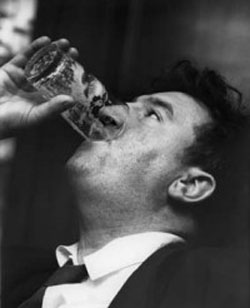 On the subject of the Bould Brendan Behan (See Sam Stephenson and Brendan Behan), he and Dead Beat shared many a pint of Guinness in Mc Daids where Brendan would give Dead Beat an earful.

A few morsels for your pleasure:

I am a drinker with writing problems.

"It's not that the Irish are cynical. It's rather that they have a wonderful lack of respect for everything and everybody."

"To get enough to eat was regarded as an achievement. To get drunk was a victory."

"There is no such thing as bad publicity except your own obituary."

"I never turned to drink. It seemed to turn to me."

"An author's first duty is to let down his country."

"I only take a drink on two occasions - when I'm thirsty and when I'm not."

May your thirst be quenched.