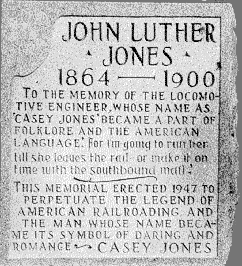 "So D.B. what's with this Casey Jones groove?"
"What's with what groove?" (Indignation).
"You know the train driver dude."
"Dude?"
"Yeah - the dude groove - what gives?"
"We're still talking about Casey Jones, right?"
"That's right, the guy who crashed his train, killed himself."
"He sacrificed his life for others, dim wit. Casey's a hero - a universal one at that."
"Yeah, Universal Pictures."
"Watch your mouth, boy."
"What about this from the wreck report: Reports received to date indicate that Engineer Jones of the passenger train, who lost his life in the accident, was alone responsible for the accident as train No. 83 which was obstructing the main track at Vaughan sawing by train No. 26 was properly protected by flagman, who had gone back a distance of 3000 feet, where he had placed torpedoes on the rail; then continued north a further distance of 500 to 800 feet, where he stood and gave signals to train No. l; which signals, however, were apparently not observed by Engineer Jones: nor is it believed he heard the explosion of the torpedoes as his train continued toward the station at a high rate of speed, notwithstanding the fact it was moving up a grade; collision occurring at a point 2l0 feet north of the north passing track switch. It is also stated that Engineer Jones of train No.l failed to sound the whistle for the station when passing the whistle board. "
"Mere speculation."
"What about this then? - Jones entered the service of this company as fireman in March, l888, was promoted to position of engineer in February, l890, since which date his record has been as follows:-
Suspended 10 days February 14, 1891, for collision Water Valley Yard;
Suspended 5 days January 17, 1893, running through switch, Carbondale;
Suspended 5 days for running through switch at Villa Ridge:
Suspended 10 days December 6, 1893, for striking flat car in siding;
Suspended 15 days January 4, 1896, rear end collision extra north and No. 92 at Toone, December 20, 1895;
Suspended 30 days June 16, 1896, for gross carelessness in handling orders at Jackson, Tenn., train 2/52, June 3rd, in violation of rules 509, 509-a and 519;
Suspended 30 days September 3, 1896, sectional collision near Hickory Valley August 27, 1896, train extra north, engine 618;
Suspended 10 days September 22, 1897, for not recognizing flagman who was protecting work train extra, engine 106, as required by train rules;
Suspended 30 days for having left switch open at cross over in north yard, resulting in train No. 21 running in on siding May 22, 1899;
Where's your hero now?"
"The guy's a legend. Take it from Dead Beat. It takes one to know one."